I hope that this finds you coping with isolation, with plenty to keep yourselves active and happy. We've certainly been lucky with the weather in East Anglia since the real clamp down on movement occurred and it's made #StayAtHome and being in the garden a pleasure. As a result, most of our vegetable beds are ready to sow, sow, sow in a 'Dig for victory' sort of way now!
And of course I've actually had time to go and pick some flowers for a vase this morning, so that I can join Cathy and all the other Floral Masters for the In-a-Vase-On-Monday meme. Spring is quite definitely here and daffodils are an obvious choice. Some got battered by yesterday's northeasterly winds making them my starting point.
Sadly, I am unable to name them all, but the whites are Thalia and Elka (smaller) I think, the pheasant eye examples are Actaea,
the multi-headed, yellow-flecked doubles are Bridal Crown (scented) and the pale yellow one on the r.h.s., with the blushed apricot corona, is Widgeon.
I've added a couple of stalks of Leucojum aestivum (Snowflakes), plus few twigs of fresh Acer foliage to pick up the orange accents and I've chosen a dusky cerise primula to extend the range  of reds.
Strangely, the arrangement has ended up feeling almost autumnal, so I've displayed the vase on a decorative copper leaf, strewn with some of last year dried leaves (saved for a project that hasn't happened yet, but might get of the ground now!).
Interesting that many young leaves have such strong red tones don't you think? I was told (on a plant chemistry course at CUBG) that this might be a defense mechanism to avoid being eaten, because they look senescent.
I'll finish with an amusing comment from our Wimpole-gardeners-keeping-social-contact WhatsApp group …
X: 'I'm still keeping my hand in with the grass'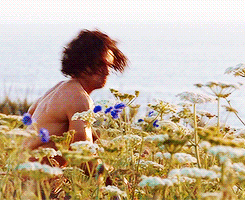 Don't forget to visit Cathy's blog … and stay safe!